Possible Long Term Effects:
bedwetting
fatigue
attention difficulties
hip rotation to one side
poor concentration
poor coordination
poor posture
poor short-term memory
fidgeting/hyperactivity
difficulty sitting still
irritable bowel syndrome (as adult)
scoliosis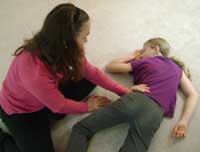 The Spinal Galant Reflex involves hip rotation when the back is touched to the sides of the spine. This reflex most likely works with the ATNR to aid in the passage down the birth canal. It is also thought to help babies balance and coordinate the body for belly crawling and creeping. It may be connected to bladder function because a high percentage of children who are bedwetting past age 5 have an active Spinal Galant reflex.