Possible Long Term Effects:
squirming or fidgeting; poor posture, slouching
headaches from muscle tension
difficulty writing and reading
difficulty sitting still
difficulty copying from blackboard
ape-like walking
vision disorders
trouble staying on task
clumsy, messy eater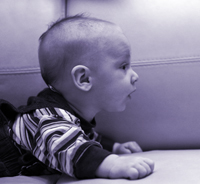 The STNR helps the baby lift and control the head for far distance focusing. STNR also prepares baby for creeping (crawling) using automatic movements for raising up on all fours. At this stage in development, movement of the head is automatically linked to movement of the arms and legs.
If the STNR remains active it is another main cause of inability to function in school. This is because up and down head movements remain linked to arm and leg movements, making school work effortful and difficult.