Sonia Story offers 4 types of classes (click on class name to read description below):
Building Brain and Sensory Foundations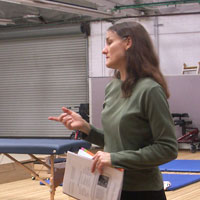 In this two day course, we focus on integrating reflexes with tools gleaned from a wide variety of neurodevelopmental movement methods. We learn movements for integrating key infant reflexes, sensory integration techniques, 4 rhythmic movements from Rhythmic Movement Training, developmental movements, and simple, but powerful strategies from Brian Gym. We explore the importance of play when relating with children. Building Brain and Sensory Foundations skills are excellent for helping with:
ADD/ADHD, dyslexia, autism, anxiety, Aspergers, emotional and impulsive outbursts, learning challenges, developmental and speech delays, anxiety, stress, PTSD, sensory integration and sleep challenges.
Parents using these tools with their children report increases in academic achievement, more harmony in family life, and children reaching new levels of calm, fitness, motivation and happiness. Though the emphasis of this class is on children, these neurodevelopmental movement tools are equally effective for teens and adults.
Rhythmic Movement Training, Levels 1 & 2
Developed by Harald Blomberg, MD and Moira Dempsey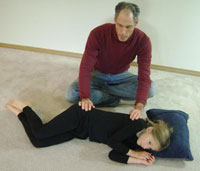 Rhythmic Movement Training, Level 1 & 2 is an excellent combination of 17 gentle rhythmic movements and reflex integration activities that effectively stimulate brain pathways and optimize potential in all areas of life.
While good for everyone, RMT is particularly useful for children and adults with challenges including ADD/ADHD, dyslexia, developmental delay, speech delay, autism, Aspergers, sleep difficulties and sensory processing disorders. In addition, RMT helps develop strong mental health, emotional and physical calm, proper posture, and increased stamina.
RMT Level 3 has in-depth techniques for vision and hand integration and methods to help with dyslexia, handwriting issues and many other learning and emotional challenges
It is well worth taking Levels 1 & 2, for access to RMT Level 3 and the specialized RMT courses: RMT and Cerebral Palsy, RMT Facial Reflexes and Bonding, and RMT and the Fear Paralysis Reflex. These classes are wonderful and highly recommended.
RMT Level 3 and the specialized RMT courses are currently taught only by RMT founders, Dr. Harald Blomberg and master kinesiologist Moira Dempsey. For more information about this outstanding program visit: www.rhythmicmovement.com.
Test Your Best
Promote calm and effective test taking and study skills. Students ages 13 to adult use brain-integrating movement tools to overcome test anxiety and meet any challenge with greater ease and confidence.
Thriving Baby, Thriving Child
Meeting Developmental Needs for Infants, Toddlers and Children
In this class we learn movement and play for preventing learning and behavioral challenges before they start. Parents and caregivers learn age appropriate movement and touch for optimal development of brain, sensory, nervous and motor systems that are critical for future learning, communication and emotional skills.
In addition, we learn techniques for determining if children require extra help and how to help children release stress and trauma.
Please contact us for information on how you can schedule a presentation or sponsor a class.